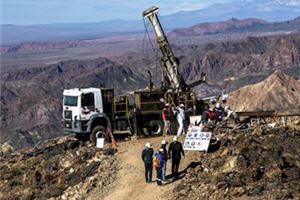 (Image via Turmalina Metals Corp.)
There is a strong appetite among investors for gold right now. The market is giving a positive response to gold as a haven investment, traders are looking for a true golden opportunity and its commodity prices reflect that.
Central banks and various treasury departments have been running their paper currency printing presses around the clock.

The US Federal Reserve can't print more gold. The current unified movement by central bankers and governments to inject fiscal stimulus with everything they have to re-inflate their economies and stave off another global depression bodes well for the future of gold.
Mining in Argentina is crucial to the country's economy and has been for many decades as a billion-dollar industry. The extraction of minerals from gold to silver and copper has often been overlooked as an investment opportunity, despite the trending popularity of these, and other, elements.
The principle project in the portfolio of exploration Company Turmalina Metals Corp. (TSX-V: TBX, OTCQX: TBXXF) is its San Francisco project in San Juan, Argentina, a company that drilled exceptionally high grades of gold in a phase 1 drilling program.
This high-grade gold-copper-silver project boasts a tourmaline breccia target style that is often overlooked by many explorers. The leadership team behind TBX is responsible for multiple gold-copper-silver-molybdenum discoveries and are highly experienced in this deposit style.
Turmalina recently announced it completed a large project-scale field program and is now preparing a phase 2 drill program, to follow up on the outstanding results at the SFLD breccia while also concurrently testing newly identified and prioritized exploration targets.
Turmalina is in a stable position in uncertain times. Having completed its three-month field program, it has data of targets modelled with drillers ready to commence work. The company is well financed via a recently completed oversubscribed financing done at $0.70.
Summer field program:
It was late March 2020 when Turmalina announced that the summer field program at its San Francisco copper-gold project had been successfully completed (South America is in an opposite field season).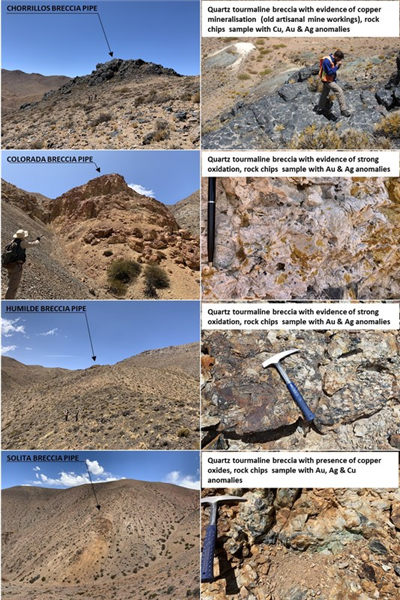 (Image via Turmalina Metals Corp.)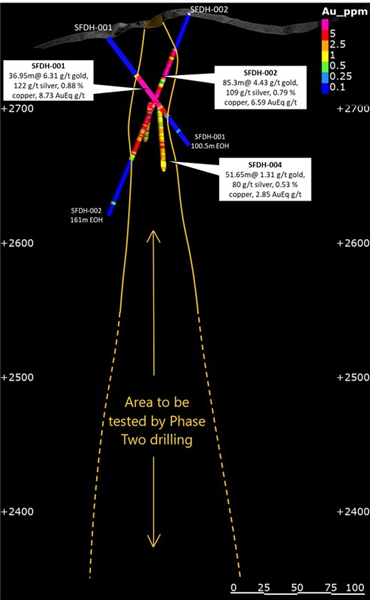 The Company reported that the entire project area had been mapped and modelled, with several high priority exploration targets identified. The next move is to advance drilling on new exploration targets within a large cluster of breccias in close proximity to the SFLD breccia, the original breccia the Company drilled. Exploration work will be based on data gathered from this field program, where more than 4,400 soil samples were gathered, along with 1,240 rock chip samples and mapping of 60 breccias.
Rock chip samples from one of the high priority exploration targets included 79 g/t gold, 385 g/t silver and 7.7% copper. To take a deeper look at details on these findings, see the Company's March 2020 news release.
Company leadership had submitted a biosecurity protocol, basically a rundown of how it will operate under COVID-19 restrictions and is currently waiting for the go-ahead from regulatory authorities, expecting to receive the green-light to start drilling within the next few weeks.
Over the last three months of field work, Turmalina's geology team had been gathering information to establish a plan for the Company's upcoming drill program. In an interview with Stockhouse Editorial, Turmalina President Bryan Slusarchuk laid out the upcoming drill process: Two rigs will be operating, one located at the SFLD breccia, following up on the first 10 holes successfully drilled. The other rig will be purely dedicated to exploration work within the cluster of breccias around SFLD. At SFLD, this program will be a simultaneous mix of testing for vertical and lateral extensions. It was here where the Company intersected high-grade gold-silver mineralization in multiple holes (such as 36.95m at 6.31 g/t gold, 122 g/t silver, and 0.88% copper, being 8.7 g/t gold equivalent.
For more analysis of this breccia, see Stockhouse's previous feature article on Turmalina Metals Corp. from December 2019.
Holding up under COVID:
The impact of the COVID-19 coronavirus pandemic on businesses around the world cannot be understated, especially where mining is concerned. The government of Argentina established a nation-wide mandatory quarantine on March 19th to help reduce the spread of the virus.
Even so, Turmalina Metals has had a protocol in hand to mitigate this impact and is prepared to commence drilling operations. Mining has been deemed an essential service by the government, which has kept the door open to keep operations moving ahead, while many of its staff can continue their work with little material impact.
The planning phase for its drilling operation was mostly done offsite, which allowed its technical and managerial team to operate remotely from their home offices in Canada, Brazil, Peru, Argentina and across Asia, with their corporate office in Canada. All of this work, analysis and modeling of its data was completed at a physically decentralized location between these remote offices while the Company got ready to initiate its drilling operations.
Speaking on this, the Company's CEO Dr. Rohan Wolfe acknowledged in a news release that these are unprecedented times and the main priority remains the health and safety of the team, contractors, and community at large.
"We are well prepared to operate over this period, with a strong cash position and a team used to working together remotely from our home offices. With the completion of our extensive summer field program we are looking forward to reviewing the large amount of data collected to date, and we will be ready to commence our Phase 2 drilling program the moment it is deemed safe to do so."
Financing:
Turmalina is well positioned having just closed its oversubscribed, institutionally-focused $9.7 million private offering earlier this year, issuing nearly 14 million units of Company stock.
The proceeds from this offering will be used by Turmalina to enhance its exploration and development work at the San Francisco project, as well as continued assessment and evaluation of the project, and general corporate and administrative costs along with working capital purposes.
Graduating to the OTCQX market: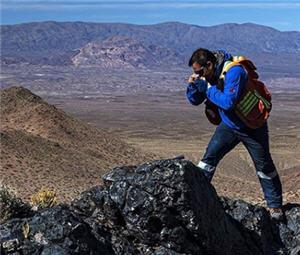 As there is serious interest in gold names in the US, it was only natural for Turmalina to upgrade its business into that market.
Most recently, the Company achieved a milestone in upgrading to the OTCQX Market and is now able to offer greater trading transparency to US shareholders. To make the cut for trading on this OTC market, a company must meet high financial standards, while also follow strict corporate governance and adhere to securities laws. For companies like Turmalina that do, it means access to an efficient market where they can utilize their native market reporting and broadcast it to a large US audience.
Investment summary:
In these times of economic uncertainty, Turmalina Metals Corp. has demonstrated continued growth and a plan to keep that momentum going with strong exploration results, solid financing, and debuting on a major market. This is a well-funded Company with no debt and ready to follow up on promising phase one drill results from its exciting mineral project. Turmalina boasts a strong balance sheet with low overheads that investors should look into when doing further due diligence on this stock, while also noting its highly experienced management team that is guiding this Company to execute its strong business plan.
termalinametals.com
FULL DISCLOSURE: This is a paid article produced by Stockhouse Publishing.