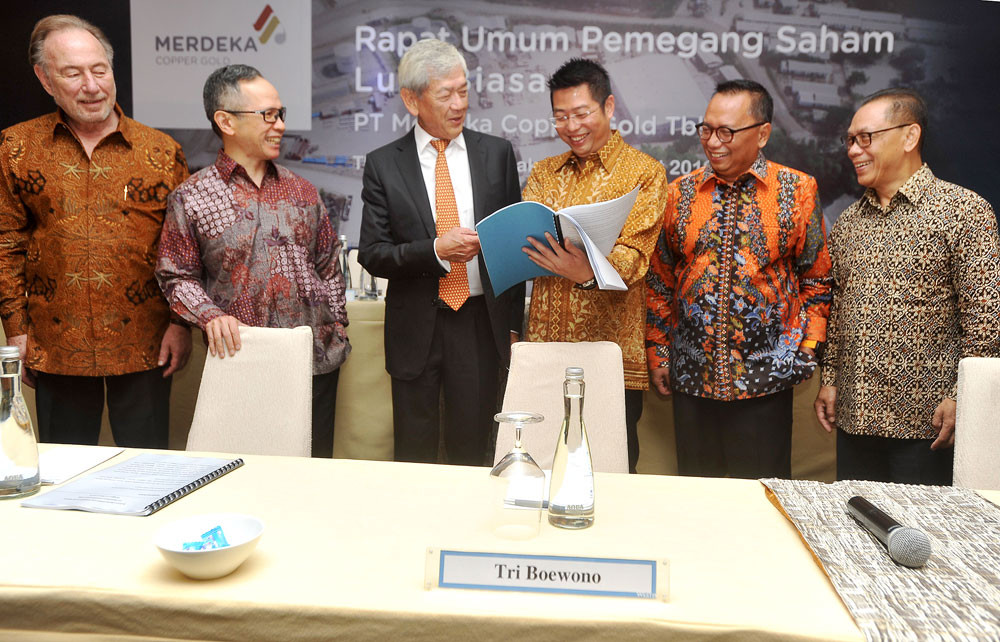 Mining company PT Merdeka Copper Gold halted gold production at its Tujuh Bukit Project site in Banyuwangi in East Java, following an incident that caused damage to pipes and pumps, the company's top executive has said.
Merdeka Copper Gold president director Tri Boewono reported that the company had discovered fractures on the surface of its heap leach pad, a segment used for metal extraction and processing, on Saturday morning. By noon, ore stored in front of the pad had subsided and caused damage to pipes and pumps. No casualties were recorded. 
"What we can say now is that there are no gold losses, but for so long as the restoration process is still in motion, this incident will affect the production and cash flow of the respective mining site from what has been projected before," Tri said during a virtual public exposé on Tuesday.
"The company will make a further announcement in regard to the incident after the study on the impact on production and cash flow has been concluded," Tri added.
He said he was not able to provide the cost of the incident at the moment as restoration plans to minimize the impact were still being drafted. Currently, irrigation work in the area has been temporarily closed down. 
The Tujuh Bukit Project is a gold and silver mining project in which Merdeka owns a 99.89 percent stake through its subsidiary companies, PT Bumi Suksesindo (BSI) and PT Damai Suksesindo (DSI).
BSI, which is in charge of gold ore mining, produced 223,042 ounces of gold and 409,492 ounces of silver in 2019, up from a production of 167,506 ounces of gold and 140,594 ounces of silver in 2018.
BSI is estimated to have ore reserves of up to 871,000 ounces of gold, 35.15 million ounces of silver on the mining site, along with mineral resources reserves including 8,753 tons of copper, according to a December 2019 report.
Merdeka is currently developing underground gold and copper projects on the site, with a pre-feasibility study to be completed in 2021. The company said the incident would not affect drilling plans and the pre-feasibility study on the site. 
In the first half of this year, the company spent US$30 million in capital expenditure (capex), Tri disclosed. The figure is projected to reach US$80 million by the end of the year as the company plans to spend US$50 million in this year's second half.
However, Tri noted that the number had yet to include the restoration that would be needed after last Saturday's incident. 
Merdeka's revenue was up 3.67 percent as of June this year to US$198.81 million from US$191.77 million recorded during the same period last year. The company's net profit, however, fell 9.44 percent year-on-year (yoy) to US$38.27 million throughout the first six months of the year.
Merdeka also reported total production of 108,823 ounces of gold and 2,926 tons of copper during this year's first half, in a press release published on Tuesday.
Aside from the Tujuh Bukit mining site, the company is operating the Wetar copper mine located on Wetar Island in Southwest Maluku while developing three projects: Tujuh Bukit Copper; Emas Pani JV, a joint venture between Merdeka and J Resources; and Acid Iron Metal Wetar, a joint venture with Eternal Tsingshan Group Limited. 
"The strategy of project development and product optimization will maintain positive business growth for Merdeka," Merdeka corporate secretary Adi Adriansyah Sjoekri said in the press release. 
During the public exposé, Adi explained that gold and copper had become two of the most attractive metals as geopolitical uncertainties had driven gold prices to increase significantly throughout the year, while the copper price had also performed well, going up 9.1 percent year-to-date (ytd). 
"Most analysts are long-term bullish on copper due to its importance in high growth sectors such as electric vehicles," he said, noting that the production of an electric car used three to four times more copper than when producing a conventional vehicle. 
In a research report published by Mirae Asset Sekuritas Indonesia on Tuesday, analyst Andy Wibowo Gunawan wrote that consensus expected the United States' initial jobless claims, an indicator affecting gold prices, to slip to 850,000 people for August 29 from 884,000 in the week prior. 
"We predict that global gold prices will be trading on muted mix, given variegated estimates for the US' purchasing power," he said. Gold, considered to be a safe haven amid volatile times, normally trades higher when unemployment and inflation are high, while interest rates are low and currencies weak. 
Merdeka Copper Gold's shares, traded on the Indonesia Stock Exchange under the code MDKA, was down 4.94 percent to Rp 1,540 apiece at 1:58 p.m. on Wednesday. Throughout the year, however, it has rallied 43.93 percent while the Jakarta Composite Index, the main gauge of the IDX, fell 19.59 percent during the same period.